Brass lessons in London and the South East
I teach all ages and can prepare students for either TrinityGuildhall or ABRSM exams. However, I am also happy for students to progress by following their own list of targets, completing their Skill requirement for the Duke of Edinburgh awards, or just playing for fun! I also teach theory as part of practical lessons as students progress.
Trumpet lessons
For trumpet students I am able to teach all abilities and, for interested advanced students, I can also teach the essential skills needed for all standard doubling instruments. These include: natural trumpet, piccolo trumpet and cornett.
Other brass lessons
Although my primary training is in trumpet, many of the skills I have learnt are equally relevant for the other members of the brass family. I also have a highly experienced network of colleagues who I will be happy to recommend if preferred.
Experience
I have been teaching since 2011, firstly through the Every Child a Musician scheme, run by the London Borough of Newham, and more recently as a brass and chamber music tutor forKent Academy of Music, Sir Joseph Williamson's Mathematical School, King's School Rochesterand Wetherby Senior School. I have also taught individual and group lessons for LSO Discovery the education branch of the London Symphony Orchestra and have tutored the trumpet section of the Kent County Youth Orchestra and Kent Youth Symphonic Band, giving stylistic and technical guidance as part of their residential courses. I hold an enhanced DBS/CRB certificate.
As a result of my extensive performance activities, I am able to offer a high standard of practical guidance. I graduated from Guildhall School and Dramas Orchestral Studies MMus course with Distinction, following the First Class BMus (hons) in performance achieved during my earlier studies there.
Publications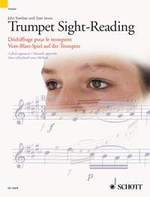 Published in late-2012, the aim of Trumpet Sight-Reading is to provide a series of progressively more challenging tunes with a specific emphasis on developing the skill of sight-reading. The book is not restricted to one style or a particular standard of player, rather it is intended to present the challenges faced by trumpeters of all ages and abilities. From the beginner with only a couple of notes to their range, to the proficient player looking for new ways to challenge themselves, this book is designed to cover it all. If you are interested and would like more information please feel free to get in touch.Contact
Tools of the Trade
Do you already own an instrument? Although I am unable to provide students with instruments I am happy to offer advice on the best hire or purchase deals. It will not be possible to start lessons until you have an instrument - practise makes perfect!!
Please feel free to get in touch via the Contact page.