Trumpet lessons
I began teaching in 2011 as part of Newham's Every Child a Musician scheme and have since taught individual and group lessons for LSO Discovery as well as tutoring the trumpet sections of the Kent County Youth Orchestra and Kent Youth Symphonic Band. I am currently a brass and chamber music tutor for Sir Joseph Williamson's Mathematical School, King's School Rochester and Wetherby Senior School.
I teach all ages and abilities and, for interested advanced students, teach the essential skills needed for all standard doubling instruments. These include: natural trumpet, Eb/D and piccolo trumpet.
I can prepare students for Trinity, ABRSM and Duke of Edinburgh Skills assessments, but am also happy for students to progress by following their own list of targets, or just playing for fun! I also integrate aural and music theory elements as part of practical lessons.
I hold an enhanced DBS/CRB certificate.
Publications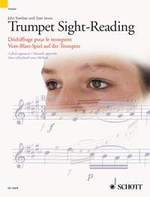 Published in late-2012, the aim of Trumpet Sight-Reading is to provide a series of progressively more challenging tunes with a specific emphasis on developing the skill of sight-reading. The book is not restricted to one style or a particular standard of player, rather it is intended to present the challenges faced by trumpeters of all ages and abilities. From the beginner with only a couple of notes to their range, to the proficient player looking for new ways to challenge themselves, this book is designed to cover it all. If you are interested and would like more information please feel free to get in touch.  Trumpet Sight-Reading was co-written with excellent composer John Kember, who has a host of other music books available through his website.
Other brass lessons
Although my primary training is in trumpet, many of the skills I have learnt are equally relevant for the other members of the brass family. I also have a highly experienced network of colleagues who I will be happy to recommend if preferred.
Please email me at samlewistrumpet@gmail.com for any teaching queries.