The Town Trumpeters
Sam Lewis and Darren Moore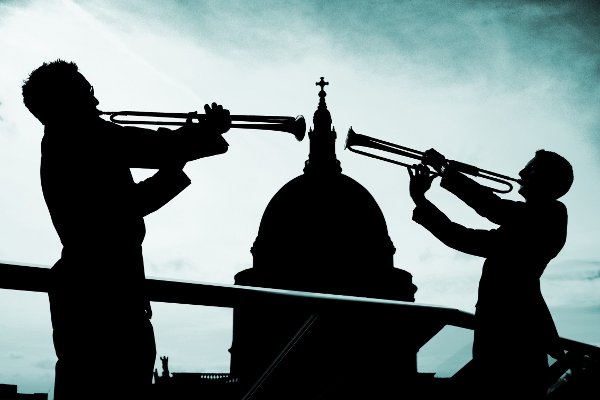 Listen...

Clarke - Trumpet Voluntary (modern trumpets)

(MP3 file, 391.5 KB)

Biber - Duet No.7 (natural trumpets)

(MP3 file, 624.1 KB)
The Town Trumpeter has been recorded as a role of considerable importance in music history. A position of high prestige and considerable wealth, it was their duty to announce important events in the town, from the opening and closing of the town gates to major functions for the nobility.
We, at The Town Trumpeters, have taken great inspiration from the historical aspect of the trumpet's role in society. Using replica 17th century instruments we provide trumpet fanfares for public and private events. This has proven to be a great addition to many special events, the "wow-factor" coming not only in the magnificent sight of the trumpets, but also the unrivalled sound that they make!
Alongside these traditional performances, we also perform a wide variety of classical and light music duets and can provide music to suit any occasion.
Formed while studying at the Guildhall School of Music and Drama, we are pleased to offer a wide range of trumpet fanfares and duets for all occasions. If you wish to book us, please use theContactform.
Listen...

Clarke - Trumpet Tune in D (natural trumpets)

(MP3 file, 404.5 KB)

Biber - Duet No.9 (natural trumpets)

(MP3 file, 260.5 KB)